A | to | W | X | Y | Z
(Atheist stuff - Hipster stuff - Animal stuff)
.
---
The comics always show up here first. If you want to follow them and see them ad-free, this is the page to bookmark. It's not a smart page (no RSS, comments or other such fun,) but it has all of them, and with commentary you can't get anywhere else.
If the headline is a hyperlink, that means it's already run on GlossyNews.com, and you can follow the link to post comments about it, even on Facebook. Feedback is always appreciated, even the negative kind.
---
25 - A sexually deviant ghost and his pants
This joke is all me, and I'm both amazingly proud and deeply ashamed of it. If you don't get the joke, Google "Bukkake", but don't do it at work or in front of anyone you wish to respect you. You might also want to read it aloud to get the "jacket off" part of the joke.
The heads are very much Clip Art, but I spent a lot of time redoing them. I retraced them, colored them and added the faces and expressions. Fairly happy with this one.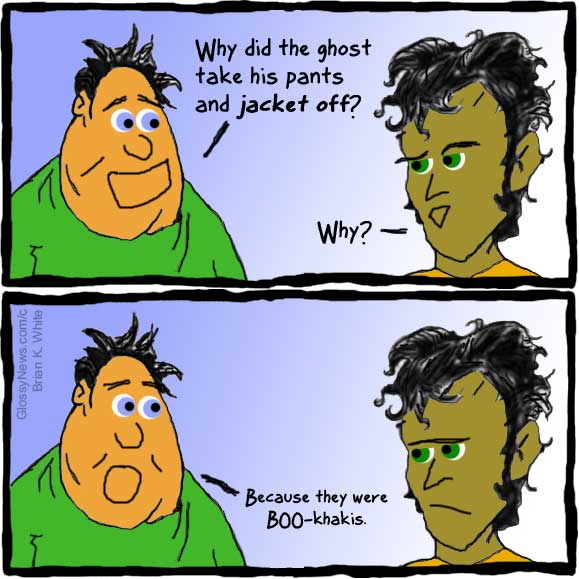 ---
The heart of the joke is not my own, but I tweaked it quite a bit. The cartoon bodies and heads are clip art, but the faces, expressions and coloring are all me. This is the first comic to use a 4-square shape other than square. It's distorted to make it look more interesting, but for no real practical purpose.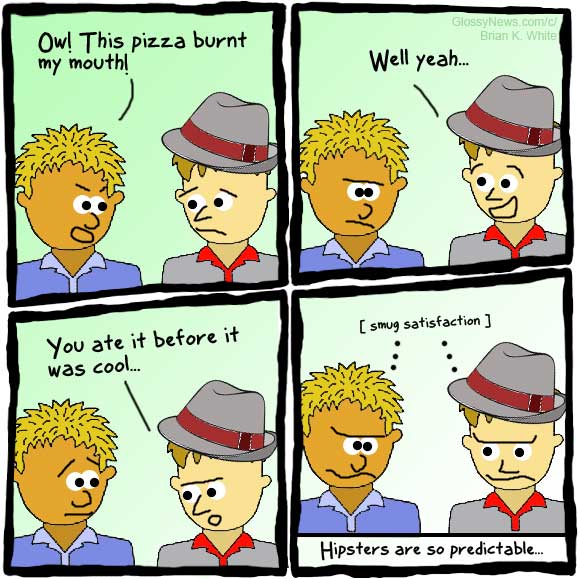 ---
23 - Microsof Office Assistant
I'm not sure where this joke came from, but it's all me. I struggled with the final punch on the guy and settled on this one. That's a big difference between the 90s and, well, any time after that.
The head is repurposed clip art I went over, traced and made my own. The face is 100% my own, as is the coloring.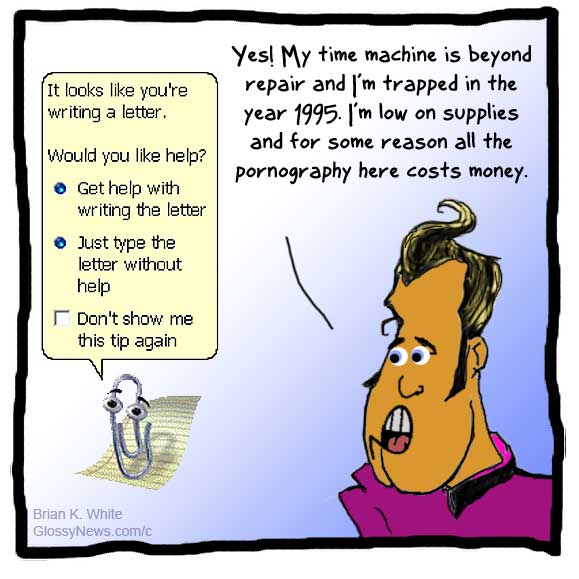 ---
Tried somthing new this time. Instead of using Clip-Art or trying to draw from scratch, I took photos and used them as my template, then edited the heck out of them from there. Altered them enough they certainly count as fair use, and the final look, I think, is pretty good.
---
I'd been kicking this one around for a while (more than a week,) before finally tackling it. Had to make a custom size with all the borders and what-not. The heads are Clip Art, but everything else is me. The layout is what really took the most time.
---
This one also relied heavily on Clip Art. Only the faces and the shading are original.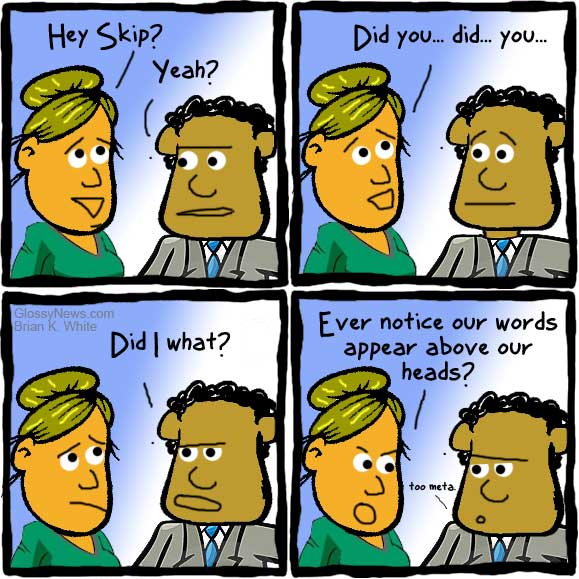 ---
19 - Meaning of Spring Break changes over time...
This was a ton of work, though not the most original. The heads and backgrounds are all Clip Art. The shading and faces area all me.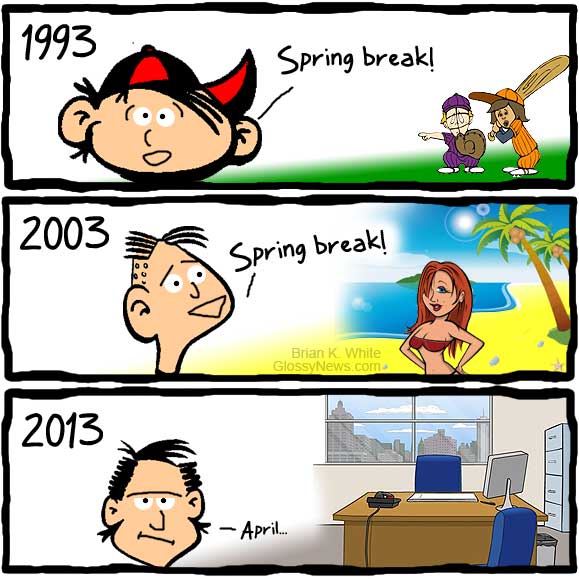 ---
My first single-panle comic, and I'd hoped it would be an artistic masterpiece, based on everything I'd learned in recent days, but it was simply not meant to be.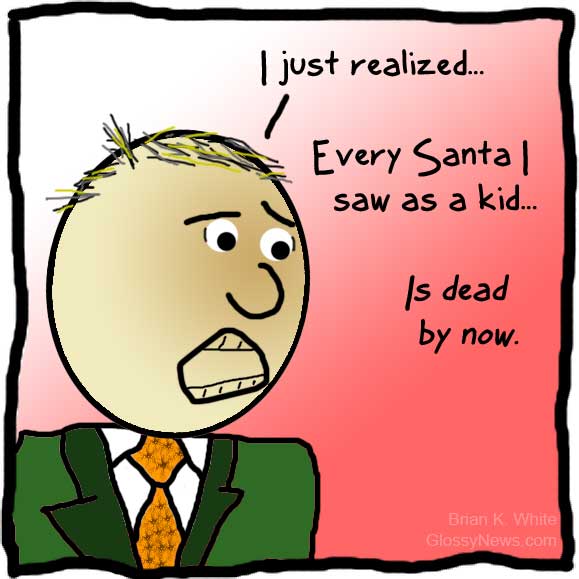 ---
This is my first attempt at breaking the conventions of the standard borders. The art sucks, but I'm still pretty happy with it. The hat kind of took over things, but still.
For the record, I was not, in fact, drunk when I made this. The level of difficulty was already high enough without throwing impairment in the mix.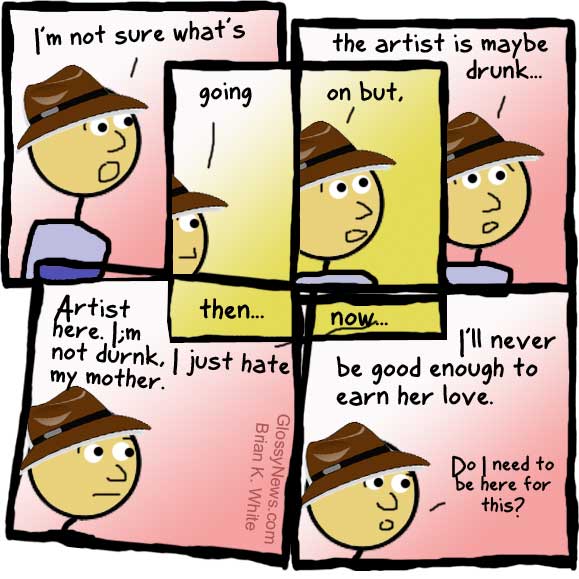 ---
A decent mix of Clip Art and original work. Too much work.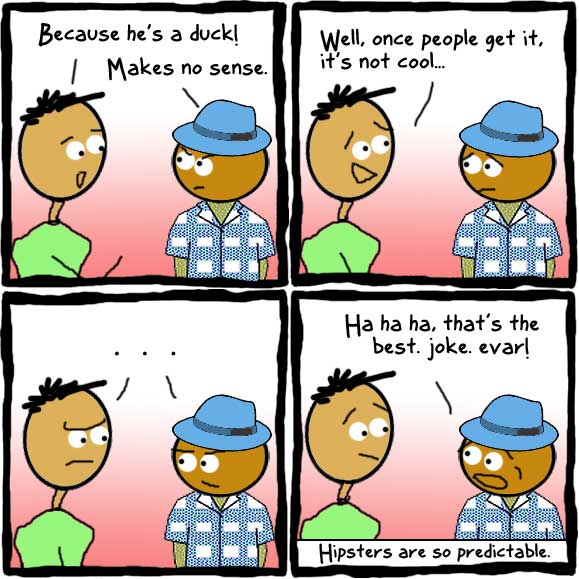 ---
This one was supposed to be used as a way to explore new aspects and angles for expression, specifically eyes, but it just... didn't happen. Also modified Clip-Art horses.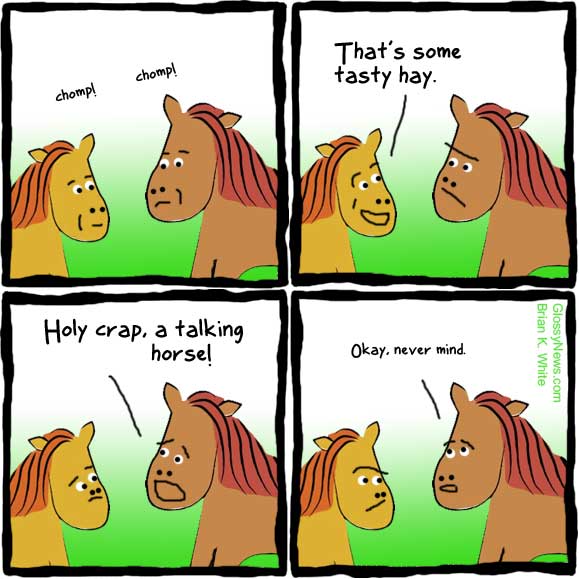 ---
This was a big one. I finally bought a book on how to draw cartoons. You'll notice that the 4-square-panel format has been dropped, that there are now noses and ears, that there's no Clip Art, and that there are whites of eyes. I like this. I'm growing.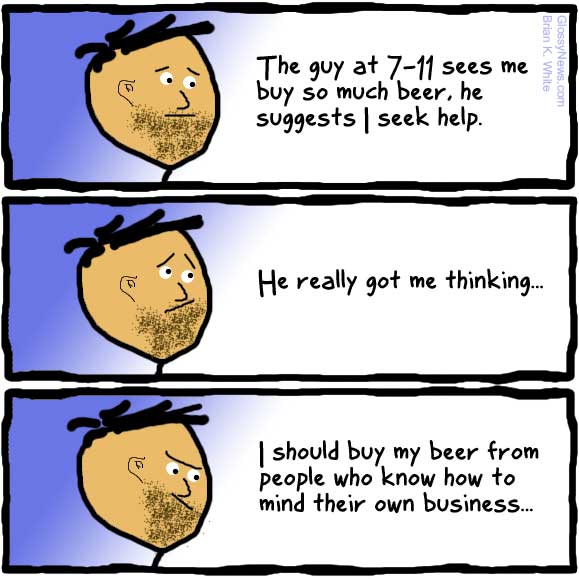 ---
This was the most original thing I'd thought up in a while. Came up with it listening to a story on NPR about a rescue dog. Tinkered with the punchline for a solid ten-hours before settling on this one, though I'm still second guessing.
The dog, hat and bone are all heavily modified Clip Art, but the facial expressions really show some growth over earlier attempts. This is also the first use of a font other than Comic Sans, and I must say, it's a refreshing change. No going back from that.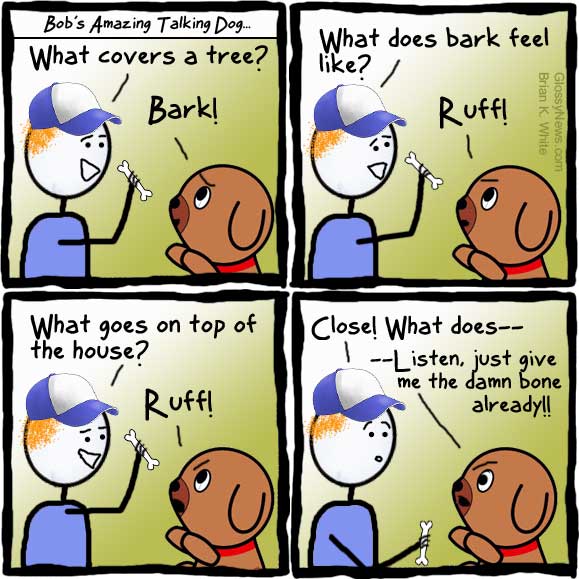 ---
Most of this is old jokes, though some percentage is original. My first effort that isn't square. The iteration of GlossyNews.com presently being used doesn't require, but strongly prefers a small, square comic. This one broke the mold by a mile. Other than that, there's nothing new about it.
---
Fun Fact: Why are hands so scary? Because they apparently look like spiders! 100% my creation and it's 100% clear that it is so.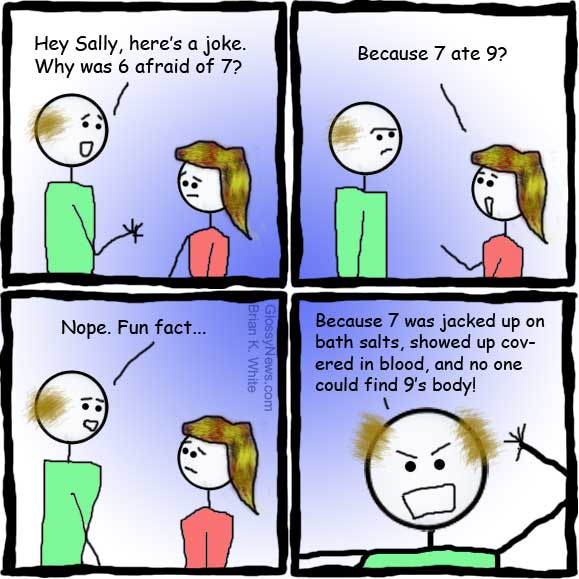 ---
10 - Best thing about Alzheimer's
An old joke shuffled around a bit to make it new. Nothing ground-breaking, but still funny. Only the doctor's headband was Clip Art, but that should be pretty obvious. By this point I was growing tired as hell of my wireless mouse, which simply couldn't make a straight line.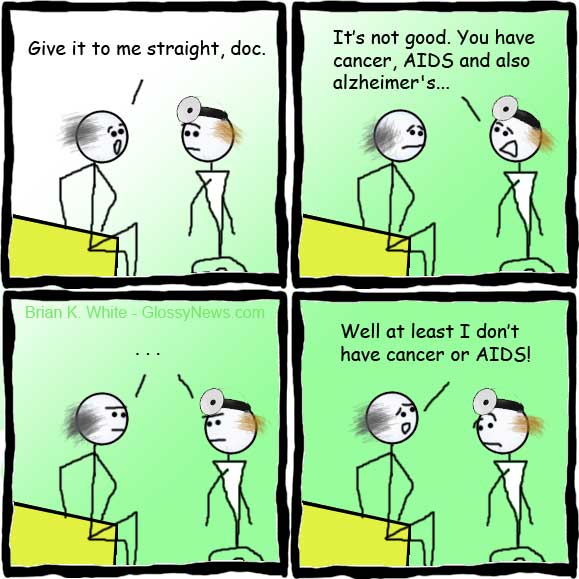 ---
Yet another old joke. Zero Clip Art, and fairly happy with the art, but still crude.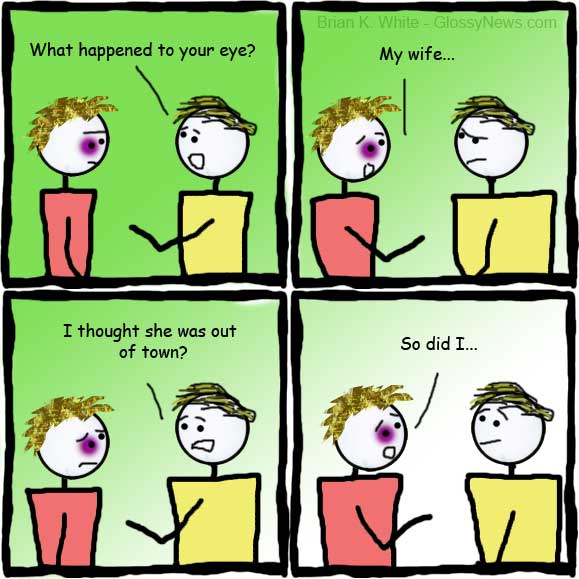 ---
Another old joke. Clip Art for the man's hair and terrible art for the rest.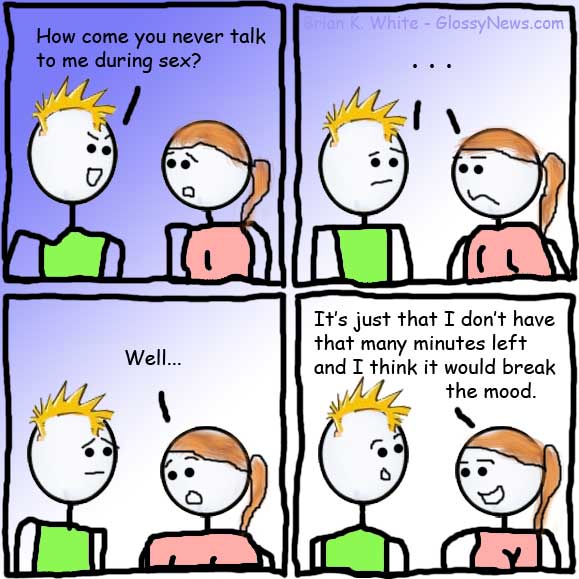 ---
This is an old joke. I ran out of my own and wanted to keep going, so I repurposed an old joke I remembered. A tad crass, I'll admit. Heavily modified Clip Art for the hair and brick wall, and my first real use of perspective.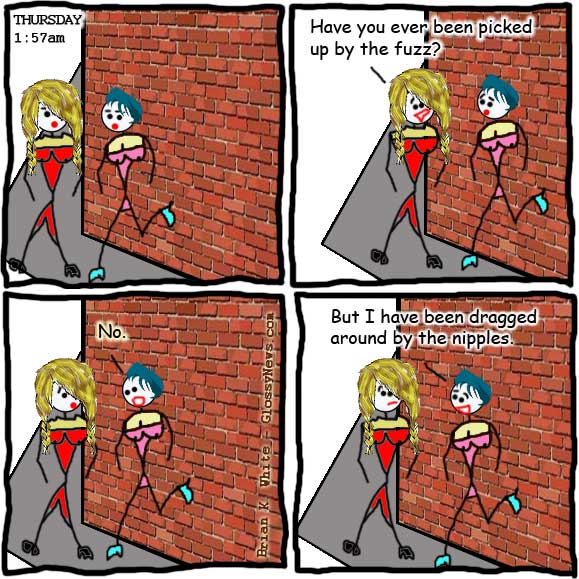 ---
6 - Spot the Difference - Time
This one was a failure. I must have spent 10-hours making it, it wasn't funny, and though I learned a bit, I hope to never waste my time on anything this stupid in the future.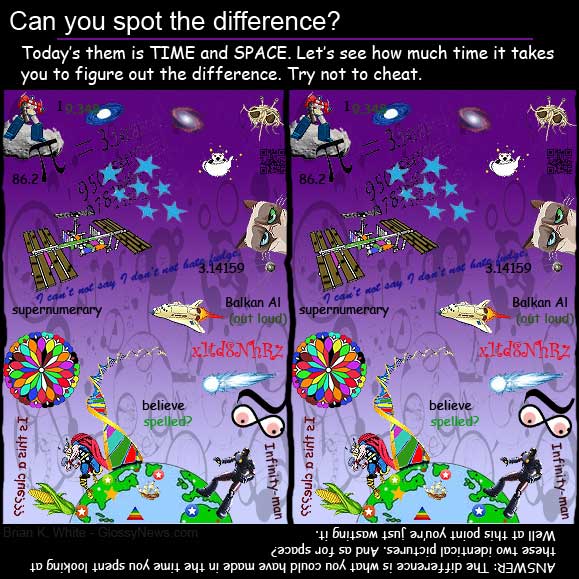 ---
This was the first one well-received on Reddit. It got hundreds of upvotes on r/webcomics and stayed on the front page for days. Clip Art hair, but everything else was me. Not super-thrilled with it now, but it was a good, early success.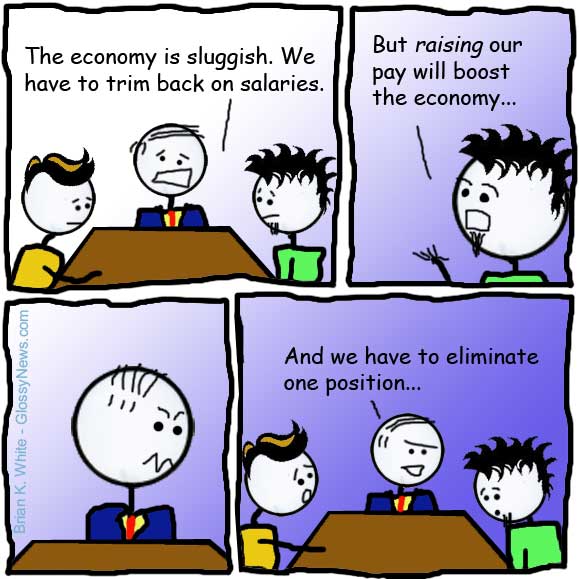 ---
Banged this one out too quickly. Didn't work. Only thing new was shaded backgrounds, which I liked enough to keep. Didn't do hair or bodies. A mistake I didn't want to repeat.
---
3 - Immigrants Suspicious of Easter
I was pretty proud of this one. Got it out just in time for Easter 2013. Still afraid it could be seen as racist, which was NOT my intention. My point was the each culture has their own absurdities. I added a lot more color for this one, and introduced some Clip Art, and I think it worked.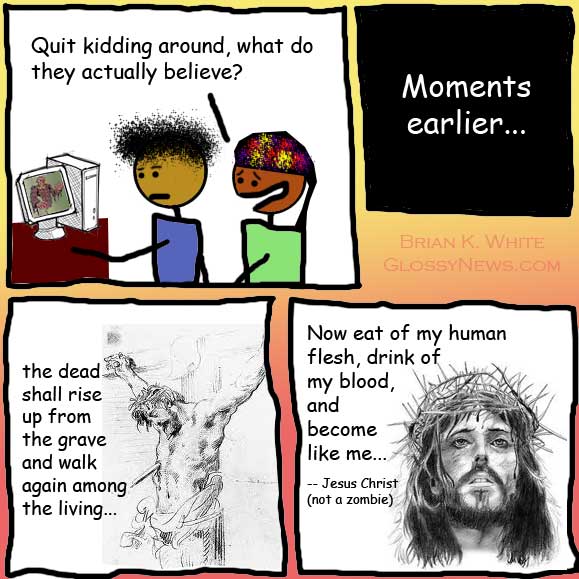 ---
My second-ever comic. Still happy with the hair, but the pants and crotches are a mess, as are really the faces. Inspiration came to me while looking for an alternative to the Comic Sans font, which I wouldn't get around to until about #13.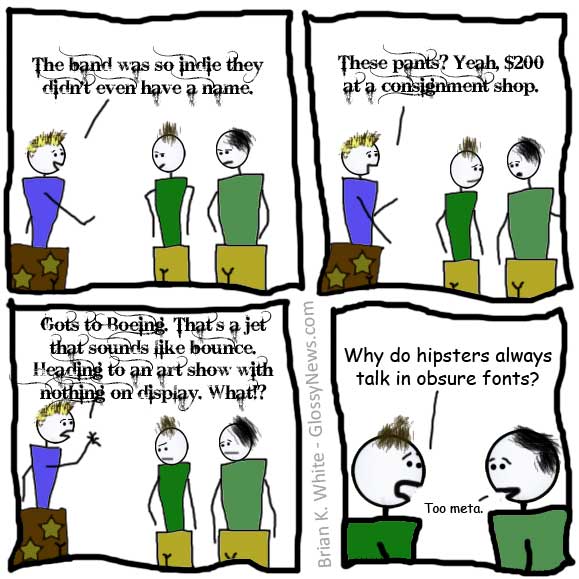 ---
This was my first ever comic. I had thought of others before this, but never made any. I did no research and just slapped it together from a joke I'd thought up a few hours before. Pretty crude, but it does the job.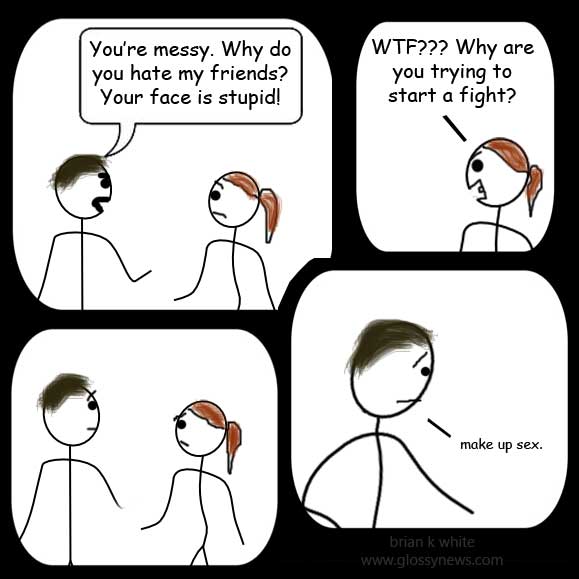 ---

A | to | W | X | Y | Z
(Atheist stuff - Hipster stuff - Animal stuff)
.
---
ABOUT - This is a sometimes webcomic about, you know, kind of whatever. There's no set format (yet), so whatever is funny goes to print. I've only been doing webcomics since the last week of March, 2013, so it's not all that refined just yet. Don't worry, I'm working on it.
If the title of a comic is a hyperlink, that means it's live on GlossyNews.com, and you can go there to post your comments about it. You won't, but it's still an option. Just looking out for you.